In September we unveiled our most ambitious project yet, Diverse Sussex, with the aim to better understand and address issues around diversity, equity and inclusion (DEI) in Sussex's tech community, so that we can move towards a sector that's more welcoming, fair and prosperous for everyone.
To mark the occasion, we held a special event at PLATF9RM Hove, bringing 100+ leaders and businesses together for networking and talks on the importance of DEI and how we can make progress.
Following an introduction to the initiative by our Co-Founder Steve Rackley and Mo Kanjilal of Watch This Sp_ace, we were fortunate to hear from Sheree Atcheson, one of the UK's top most influential women in tech and an international multi-award winner for her services to diversity and inclusion.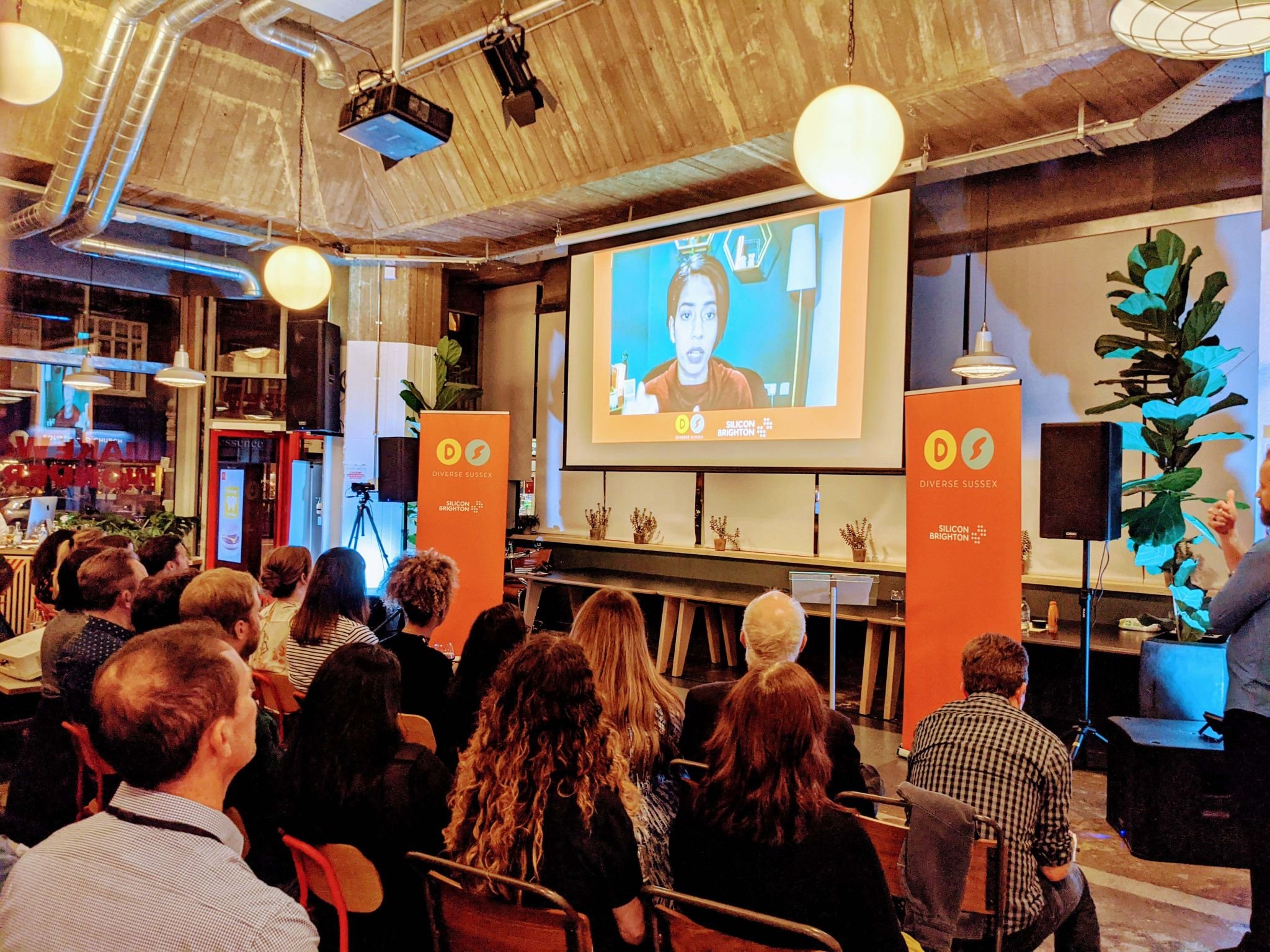 Sheree's talk focused on diversity, inclusion and belonging in tech, in which she shared revealing statistics on the state of DEI in industry, where it will lead us if we're to continue on our current trajectory, and practical changes that business can start to make to address their shortcomings.
In summary, her initial advice to businesses was…
Gather data and analyse it regularly
At a minimum you should be capturing gender, ethnicity and social mobility of your employees and job applicants to identify where improvement is needed at every level of your business.

Engage senior leadership and middle-management
Often goals and visions come from senior leadership whilst action comes from middle-management. Your senior management must listen to what's required from an operational perspective, and give middle-management the space, time and training they need to fulfill those goals.

Embed accountability
Instead of defining a lofty goal of X representation, define what failure looks like, who owns it, and when to address why change is or isn't happening.

Rework hiring processes
Think about what improvements you can make at your business if you continually see a lack of diversity when hiring. Look into mandatory training for all team members on privilege awareness, inclusive interviewing, intersectional allyship, etc.

Analyse and amend company processes
…such as promotion, values, probation, reasonable accommodations, grievances. But before you make any changes, it's important to understand what is and isn't working and why, and whether your processes are benefiting or excluding people.

Be transparent
You can't bring people on a journey if they're not rooted in the journey. Share your DEI data both internally and externally. It's not about whether your data is good or bad, it's about what you do with it next.

Intelligent listening
Unless you're a very small team (<10), using 1-2-1s to gather feedback doesn't usually work – it misses the opportunity to listen at scale. Find an efficient way to engage with employees through anonymous surveys or a platform such as Peakon.

Set goals and strategise
Do this how you would with any other project or strategy. Get expertise in the room and make sure you set goals, but don't try to fix everything at once. Instead pick one thing per quarter to focus on.
Sheree expanded on these points in her talk, which you can watch in full, along with Steve and Mo's talks, on our YouTube channel.
Since the launch of Diverse Sussex, we've already had many companies join us in our collective promise to do better, including…
No matter where you are in your diversity, equity and inclusion journey, if you're a tech business (or have a tech team) in Sussex we encourage you to become a Diverse Sussex signatory too.
Becoming a signatory contributes to our shared learning and gives you access to our exclusive toolkit and events, designed to inform your DEI knowledge and practices.
It's quick and easy to sign up. Simply register an account, wait for your welcome email and fill in our verification form to confirm your signature.
We thank everyone who came along to the Diverse Sussex launch and those who have supported us thus far!